History of Msindazwe Primary School
Über die Entstehung der Grundschule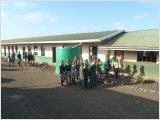 Msindazwe Primary School
The beginning of Msindazwe Primary School cannot be separated from Bonga High School. On our first visit to Bonga in January 2000 we found a lively little group of children being taught under a tree by Mrs. Mthimkhulu. Learners and teacher were very enthusiastic about their lessons.
When Bonga had erected their three prefabricated classrooms, they would have accommodated these little ones in one of them. The Department of Education, however, would not allow it.
There were some pieces of prefab material left over, and the community decided to put up a small building to use as a classroom for Grade 1. It was not as beautiful as the tree, but rather more suitable for teaching. The school site was donated by Mr. Thengumuthi Mdaka, and the school development committee was led by Mr. E. M. Mkhwanazi.

Then we started building. By 2002 Grades 1 and 2 had permanent classrooms, also a fence round the site and 3 small toilets.
Dr Gerd came to visit, and gradually more classrooms were built, one each for Grades 1 to 7. Only Grade 'R' remained in the shed-like prefab structure, wind and dust blowing in, and much too small for 45 little children.

The Department supplied food for a daily meal for all the children. It was cooked outside, in a big black pot on an open fire, with 2 corrugated iron sheets making a windbreak round the fire. If it was raining there was no meal.
The community decided to build a shelter, and with a bit of help they constructed a nice little kitchen. Alas, the cooking is still done on an open fire, as gas for cooking is much too expensive. But it is inside the kitchen now, and meals can be provided for the children in any weather.
In 2005 electrical wiring was installed, and the school was connected to ESKOM in 2006.

In November 2006 there was a lovely Graduation ceremony, as the first Grade 7 graduated to Secondary School, and Grade 'R' to Grade 1 ('real school'). Everyone was entertained with singing and Zulu dance and poetry, and the 'graduates' solemnly received their certificates and congratulations.

In 2007 we had 2 major projects, an Administration block and new toilets.
The original 3 small toilets were totally inadequate for more than 350 children. A huge hole was dug, which had to be lined with blocks to support the structure of 10 toilets.
A more complicated building, the Admin block was built by a construction company that supplied their own materials and staff. It was relief for us not to have the hassle of sourcing materials and following recalcitrant providers, but of course it was much more expensive. It was, however, just right; reception area, 4 offices, 'strong room', Staff Room and a small kitchen.
Unfortunately the Grade 'R' shack had deteriorated to such an extent that it could no longer be safely used to accommodate small children. For the next year 45 little ones were squashed in on the floor of the little Admin block kitchen, which became their classroom.
Finally, in May 2008 we were able to put up a classroom for them. How they enjoyed the space and light and bright furniture in that big room!

Only a computer room was missing, and that was built in January 2009. There are no computers yet, but they will be coming…

There are no words to express our gratitude. We wonder again and again at the generosity of people, and thank them with all our hearts.
May our dear Lord bless you all.