Philisiwe Kunene über ihren Besuch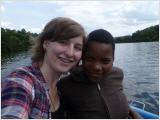 Philisiwe mit ihrer Brieffreundin Pia
I'm Philisiwe Kunene a girl of 16 years. I'm doing grade 11 at Bonga High School in South Africa. I wish to be a civil engineer or an environmental engineer. I live at Ngodini Area with my parents, two brothers and one sister, but all together we are fifteen at home.

I'm very happy that I got this opportunity to come to Germany. It was my big dream and now it came true. Firstly I just wish to thank you for your support that you have given to us and the way that you have welcomed us. I hope you appreciated to be with us as we enjoyed to be with you. Here I have learned many things about Germany and I have perceived that the German people are fond of us because they waste their money by contributing to our school.

Germany is very different from South Africa, because here they have a high standard of living and education, they have improved the infrastructure with water and electricity but in South Africa there's a scarce water, no electricity, lack of jobs and there aren't tire roads and bridges across the rivers like here in Germany.

This week I saw much of the Sauerland.
I arrived in Frankfurt on Monday morning and went to Olpe for breakfast. Then I went to my pen friend Pia's house and in the afternoon we went to tae-kwon-do-training. In the evening was a barbeque at Dr Reichenbach's house. On Tuesday we visited the sports festival of the SGO and after that we went to school to have a discussion with other learners. In the afternoon we went to the cave in Attendorn. Wednesday I went to some classes to tell the students about my life and my school and I took part in the race, where the students run to get money for Bonga High School. After school we made a trip to the Biggesee, a lake next to Olpe and drove a boat, what was much fun. In the evening we went to a Restaurant to welcome the Ambassador Mr Stofile and his wife Mrs Nambitha Stofile. It was very nice, because everyone was wearing beautiful dresses. On Thursday there was a big Bonga festival at the SGO. The learners did some drumming to welcome the Ambassador who was visiting the school that day, painted the children's faces and sold food and other things and there were many artists and bands playing great music. It was so much fun that I stayed there until 21 o'clock. On Friday morning we went to school and learned all the periods before break and afterwards we went to the companies AKA for mechanical engineering and Kemper. In the afternoon we went to Cologne to visit the dome (a huge catholic church) and after that we had dinner in Brauhaus Sion. On Saturday we slept long. In the afternoon we went to the swimming pool and in evening we went to Mr and Mrs Decker-Lehwald for dinner.

So there was much to do but everything was very interesting and especially the festival was great fun.Danke schön für eine schöne Woche!